Welcome to the Vagary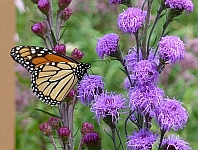 Since 1985 the Vagary has grown quality perennials, native plants, and herbs for sale in the Minneapolis/St. Paul Twin Cities area. We sell plants from our home at plant sales and at a few special events in the Twin cities area. We also sell plants by special order, and we do some custom growing.
2015 Season
It's still early in the 2015 season, but activities are now underway. We are currently planning on having our Spring Plant Sale on the third and fourth weekends in May.
Saturday and Sunday, May 16th-17th
Saturday and Sunday, May 23rd-24th
We will be open from 9 am to 2 pm each day.
We are also planning to attend a couple of special events in the Twin cities area in 2015.
Happy spring!
the Vagary E-mail List
If you would like to receive information about our market schedule and home sales by e-mail, please fill in and submit the information here and we'll put you on our list. We won't send you lots of junk mail, and we won't share your e-mail address with anyone else.