Welcome to the Vagary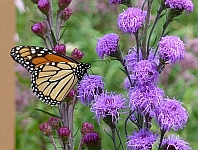 Since 1985 the Vagary has grown quality perennials, native plants, and herbs for sale in the Minneapolis/St. Paul Twin Cities area. We sell plants from our home at plant sales and at a few special events in the Twin cities area. We also sell plants by special order, and we do some custom growing.
Milkweed for Monarchs Workshop
The Vagary will be joining the Nokomis East Neighborhood Association to offer a Milkweed for Monarchs Workshop on Saturday, October 10th from 1-2 pm at the Nokomis Community Center, 2401 East Minnehaha Parkway, Minneapolis. This kid-friendly session offers a wealth of information for both beginning and advanced gardeners. The event is free with a suggested $5 donation.
This how-to workshop will provide the information and the milkweed seeds to get you planting this fall (the best time of year to plant). The presentation covers monarch habitat and the role of milkweed, why monarchs need our help, Minnesota milkweeds and what's best for your yard, and how to collect, disperse, and plant seeds. Milkweed seeds of three Minnesota native species will also be available.
Workshop presenters are Nancy Schumacher of the Vagary and Vicki Joy Bonk. Vicki has served as the Lake Nokomis Naturescape stewardship leader for 19 years and regularly speaks about the benefits of native plant gardening.
the Vagary E-mail List
If you would like to receive information about our market schedule and home sales by e-mail, please fill in and submit the information here and we'll put you on our list. We won't send you lots of junk mail, and we won't share your e-mail address with anyone else.