Changes at the Vagary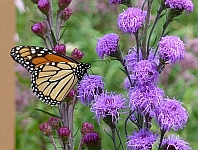 Since 1985 the Vagary has grown quality perennials, native plants, and herbs for sale in the Minneapolis/St. Paul Twin Cities area. In the past we have sold plants at the St. Paul Farmers' Market and at sales at our home several times each year. 2012 was our last year of sales at the St. Paul Farmers' Market. 2015 marked the last year of retail sales at our home.
In 2017 we plan to retail plants at two sales events in the Twin Cities area. We will continue to sell plants by special order and to do some custom growing.
We are also narrowing the range of plants offered with a focus on perennial native plants that serve as food and habitat sources for pollinators such as butterflies, bees, hummingbirds, and especially Monarch butterflies. The number of species we offer has been reduced from over 150 to about 70, with emphasis on Asclepias (milkweeds) and Liatris (blazingstars). Our plant list has been updated to reflect this. We no longer sell herbs or non-native perennials.
Minnesota Milkweeds for Monarchs
In the past few years the Vagary has begun to focus on pollinator plants, especially plants that support the Monarch butterfly population that spends the summer months in Minnesota and migrates to central Mexico for the winter. While there are many plants that serve as a nectar source for Monarchs, other butterflies, and other pollinator insects, milkweeds are especially important because they are the only plant that acts as a food source for Monarch caterpillars.
Minnesota Milkweeds for Monarchs is a summary of six popular species of milkweeds native to Minnesota that we sell. It includes good information on why milkweeds are important, which species are best suited for various landscape settings, and general information on growing milkweeds.
the Vagary E-mail List
If you would like to receive information about the Vagary and our sales events by e-mail, please fill in and submit the information here and we'll put you on our list. We won't send you lots of junk mail, and we won't share your e-mail address with anyone else.