Welcome to the Vagary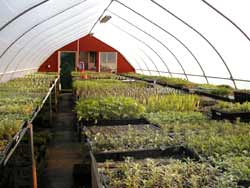 Since 1985 the Vagary has grown quality perennials, native plants, and herbs for sale in the Minneapolis/St. Paul Twin Cities area. We sell plants from our home at event sales, at a few special events in the Twin cities area, and by special order.
Spring Sale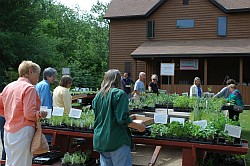 The final weekend of our Spring Sale is Saturday and Sunday, May 25th and 26th. We will be open from 9 am to 2 pm on each day.
Our pricing has not changed from last year. Most plants in 3½-inch pots sell for $2 each or six for $10. We offer attractive discounts for larger quantities. We accept cash or personal checks for payment. We are not able to accept credit or debit cards.
Most of the perennials on our Plant List are still available. Details can ge found on our updated 2013 Spring Sale Availability list.
All of the herbs on our Herb List continue to be available.
In addition to our extensive list of perennials, natives, and herbs, we continue to offer about a dozen varieties each of tomato and pepper plants. The few selections that sold out are marked. We are also offering a couple of annual plants that attract butterflies.
We are located about 25 miles south of downtown St. Paul, on Highway 56 (Emery Avenue) between Hampton and Randolph. Our address is 26050 Emery Avenue, Randolph, MN 55065. You can find us using our address with your GPS device or services such as Google or Mapquest, or use our map.
Landscape Revival
On Saturday, June 1st we will participate in the Landscape Revival: Native Plant Expo and Market in Roseville. This is a great event with eleven growers selling native plants and a number of organizations providing information about native plants. We will only be selling Minneosta Natives at this sale.
the Vagary E-mail List
If you would like to receive information about our market schedule and home sales by e-mail, please fill in and submit the information here and we'll put you on our list. We won't send you lots of junk mail, and we won't share your e-mail address with anyone else.