Welcome to the Vagary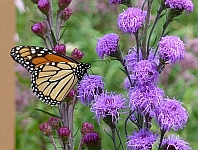 Since 1985 the Vagary has grown quality perennials, native plants, and herbs for sale in the Minneapolis/St. Paul Twin Cities area. We sell plants from our home at plant sales and at a few special events in the Twin cities area. We also sell plants by special order, and we do some custom growing.
Henderson Hummingbird Hurrah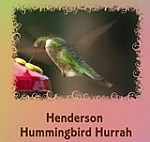 The Henderson Hummingbird Hurrah, a celebration of the ruby-throated hummingbird sponsored by Minnesota River Valley Audubon Chapter and brought to you by Henderson Feathers, is a birding festival offering opportunities that include learning about these amazing little birds, attracting them, keeping them happy and much more. A licensed hummingbird bander will catch and band birds, allowing you to see them up close and learn about hummingbird research. Other activities include a garden tour, speakers, book signing sessions, children's activities, and a Hummingbird Mall - all FREE! The Vagary will be selling polinator plants at this event on Saturday, August 16th.
the Vagary E-mail List
If you would like to receive information about our market schedule and home sales by e-mail, please fill in and submit the information here and we'll put you on our list. We won't send you lots of junk mail, and we won't share your e-mail address with anyone else.