About the Vagary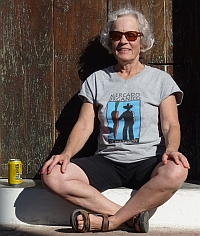 Hi I'm Nancy. I've always thought of a vagary as a "whimsical notion" . . . and that's what the Vagary was when it began over 30 years ago in 1985. The Vagary is a hobby that grew into a business. I handle all aspects of "making plants", and my husband Jim is the accountant, carpenter, electrician, mechanic, plumber, and webmaster.
We've kept the business small-scale because we want it to be personal. Every plant that you buy has been personally touched by me - several times!
We started selling plants at the St. Paul Farmers Market in downtown St. Paul while we were still living in suburban Mendota Heights. In 1988 we moved to our present location, on 50 acres in southern Dakota County between Hampton and Randolph, and continued to sell at Market locations in downtown St. Paul and at some Neighborhood Markets.
Although we have never operated a nursery or garden center open to the public, in the spring of 1996 we decided to have a sale at our home, both to give our St. Paul customers an opportunity to see where we grew the plants they were buying, and to provide a more convenient location for customers in southern Dakota County. Our first spring sale was such a great success that it became an annual event.
In June of 2012 the Vagary changed when we ended a great 27-year run of sales at the St. Paul Farmers Market. We continued to have spring sales at our home, and sometimes had other sales later in the summer. We also sold plants at a few sales events in the Twin Cities area, and by special order.
In 2015 the Vagary changed again when we had our final home sale. We continue to retail plants at a handful of sales events every year, along with special orders and some custom growing. We now focus on perennial native plants that serve as food and habitat sources for pollinators such as bees, hummingbirds, and butterflies - especially Monarch butterflies. We no longer sell herbs or non-native perennials.
Our Quality Pledge
We are proud of our collection of native species which includes both grasses and forbs. Whenever possible we grow local genotypes which are propagated using seed or stock from Minnesota, Wisconsin, and Iowa.
We will not sell plants that are not ready to be planted. We sell tough/sturdy plants - often grown outdoors and overwintered.
We are knowledgeable about our product. We work very hard at producing quality plants throughout the season - plants for sale in the later months of summer are not the "dregs" left over from spring.